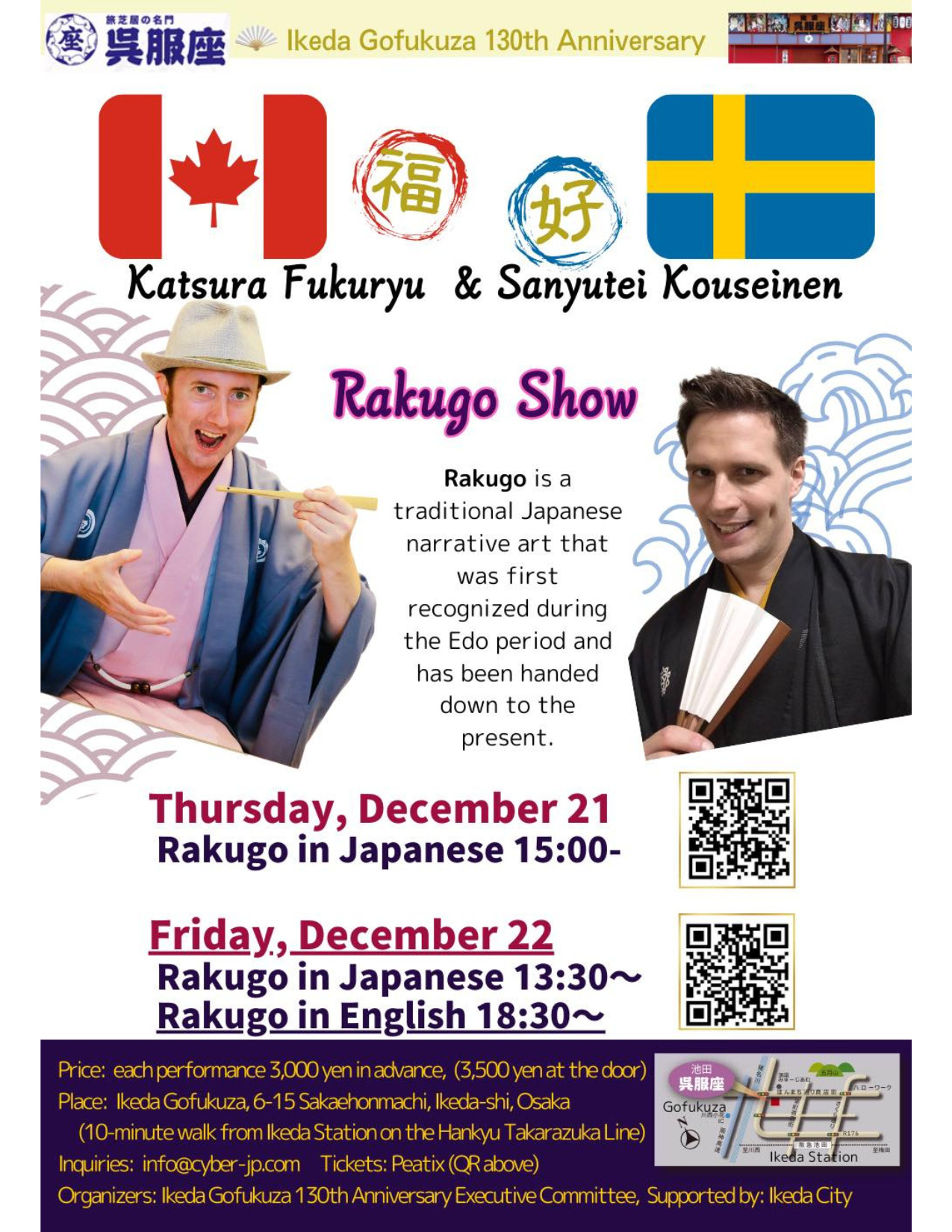 I will perform Rakugo with Sanyutei Koseinen san in Osaka on December 21st and 22nd.
21st will be in Japanese, and the 22nd we will perform in English in the afternoon, and Japanese in the evening.
We are going to celebrate 130th anniversary of Ikeda Gofuku-za!
Come join us for some comical storytelling, and experience some traditional Japanese arts by international professional Rakugoka☺
☆☆Special discount☆☆
・Peatix: We set the promotion code " rakugo".  If you use it, you will get  500 yen discount.
・Phone: If you tell Gofuku-za that you have gotten introduced to this show by Fukuryu, you will get  500 yen discount.
DATE & TIME
Thursday 21st December  Start at 15:00 (Open at 14:30)

Friday 22nd December   ➀Start at 13:30 (Open at 13:00)
➁Start at 18:30 (Open at 18:00)

PLACE
 Ikeda Gofuku-za (池田呉服座)
6-15 Sakaehonmachi, Ikeda, Osaka 563-0058
FEE
【Advance ticket】

General seats: 3,000 yen  Box seat: 5,000yen  Student: 2,000yen

【Ticket at the door】

General seats: 3,500 yen  Box seat: 5,500yen  Student: 2,500yen

CONTACT
 21st: https://cyber-jp20231221.peatix.com/
22nd: https://cyber-jp20231222.peatix.com/

・Cyber-Japanesque: info@cyber-jp.com

・Ikeda Gofuku-za: 072-752-0529

ACCESS